365 DaBand is an idol group selected from the talent contest Way2shine managed by Ngo Thanh Van. Before debut, all 4 members had to get over toughly methodical practices and be trained following models of professional KPop bands.
Throughout 5 years of building up and affirming position (16/12/2010 - 16/12/2015), 365 DaBand has been firmly putting their footprint on the colorful VPop scene up to now. It's time for a 5th Anniversary Liveshow which is undeniably most expected.
This year we have 365 days and just 01 exclusive night. ARE YOU READY?
[MV] Va nhu the (Official)
PLAY VIDEO
[MV] Bong bong bang bang (Official)
PLAY VIDEO
[MV] Hai co tien (Official)
PLAY VIDEO
JUN
D.O.B: 24/7/1989
ID traits: Sentimental-oriented person who always lays concern on the remaining team members.Competent at cooking, fluent in Japanese, love writing and animals.
Jun is versatile talented as he is a singer, a writer, an actor and drama composer at the same time. Panda is a nickname invented by his truly fans. Jun is also such a hard-working member as he has kept on releasing his own products. Jun also had the first role in Tet holiday comedy "Co Tham Ve Lang" with hot girl Sam.
WILL
D.O.B: 27/11/1989
ID traits: Humorous, funny, easy-going look.
Apart from music, Will is gradually affirming image with his role as a funny and charming VJ on Bep Chien and Radio 88.8 on YanTV. Will got a huge number of fans due to his humor, pleasant speaking nature.
Will also took the main vocal for theme song of Jun's exclusive book "Neu Nhu Khong The Noi Neu Nhu".
ST
D.O.B: 10/12/1990
ID traits: Youngest member, quiet but have strong character. Interested in travelling, swimming, bowling, enjoying Western cuisine.
Thanks to his experience in ballet from the old days, ST always takes charge of building up dances for the whole group. He used to take part in So You Think You Can Dance, but the most notable highlight in his career was Male Monarch title - King of Dancing first ever throughout history of Dancing With The Stars.
Despite his quietness, ST is the most lively member, often invent fun for others. As soon as taking the main role in the MV "Va Nhu The" of 365, ST was nicknamed "Male God" favorably.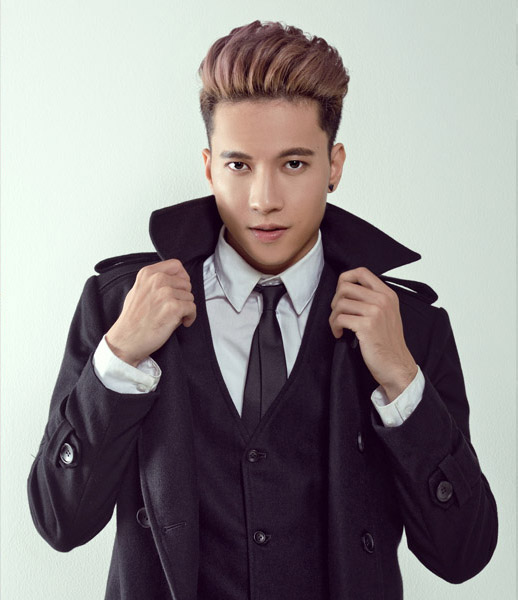 ISAAC
D.O.B: 13/6/1988
ID traits: Good command of singing, acting, nice voice, standard English theatre, playing piano well.
Position: Leader
Isaac is a talented leader and regarded as a perfect guy for most fans. Due to his gifted skill of speaking English, Isaac is currently holding VJ title of We10 show on YanTV. Third prize in The Remix is the most important milestone in his career making Isaac name much more well-known to audience. His first singles included Mr.Right and "Yeu Khong Nghi Phep" which received a lot of deep affection from audience. He has also put a step into acting while taking the main role in "Tam Cam - The Unknown Stories" directed by Ngo Thanh Van.
This time in the show, 365 will devote an exploded night bringing up on stage their "specialties" which have been placing their name within fans' hearts.
Moreover, an exclusive tour across 8 High schools and Universities around HCMC will be such a big chance for close exchanges between fans and all 4 members. Other than that, it will be also the chance for fans to reach out for liveshow tickets more easily.
Take a deep look on School Tour schedule lasting from May 10 to May 28 2016 if you do not want to miss out!
10.05.2016
16h00
Ersnt Tharnmann school - District 1
14.05.2016
20h00
HUFLIT University- District 10
16.05.2016
07h10
Nguyen Du school- District 10
16.05.2016
15h30
Tran Khai Nguyen school - District 5
17.05.2016
16h00
Hung Vuong school - District 5
18.05.2016
16h00
Phu Nhuan school - District Phu Nhuan
19.05.2016
08h00
Luong The Vinh school - District 1
20.05.2016
07h00
Nguyen Thi Minh Khai school - District 3
20.05.2016
16h00
Tran Bien school - Dong Nai province
25.05.2016
08h00
Le Quy Don school - District 3
25.05.2016
11h00
Hung Vuong school - Binh Duong province
28.05.2016
20h00
Gia Dinh school - District Binh Thanh
Nguyen Du Stadium with big capacity of audience is the chosen venue for this Liveshow. Pick up some nice seats and you will enjoy the performances to the fullest!
Vietnam Artist Agency (VAA) was founded by famous actress/model/singer Ngo Thanh Van on September 2009. As pioneering in talent training and management, we are fully aware of the importance to offer the most convenient conditions for artists to shine in their career. We desire to be the young but professional generation in entertainment industry with highly specialized expertness unlimited in planning, projects, activities, etc.
In collaboration wih many Asian producers, famous artists, press and means of communication, VAA started audition, training and investment into prospecting young talents so that they can grow up to be strongly devoted and gifted from the very images to final debut with high competitive advantages.
VAA is looking for long-term cooperation with talents and enterprises in the same field.