Professional communication
from Jolie Siam
Leading company in HR and Reception in Viet Nam
As a leading company in HR training from France, Jolie Siam organizes regular courses focusing on office communication, self exploration and personal development. These courses will be once every two months with experienced instructors from HR and communication fields. After finishing 6 courses, you can take the final exam for the "Professional International Communication" certificate qualified by Jolie Siam and our French partner.

10 years of experience in managing SMEs
4 years in training, coaching and mentoring middle managers
Asia's Best Young Entrepreneur – Business Week (2008)

Le Thanh Tu
CEO - Jolie Siam
8 years in HR lead positions at different sectors
4 years of experience in training reception and office administration skills
Tran Thi Huong Thom
HR Director - Jolie Siam
Ph.D in Psychology
Certified instructor of Applied DISC in Vietnam
Consultant in business development, strategies and digital tools
Trinh Quoc Tri
CEO - Vita Share
Location: Jolie Siam Office, 8th Floor, CMARD 2 Building, 45 Dinh Tien Hoang Street, District 1, HCMC
For the best learning outcome, the course will start when there are at least 15 participants enrolled.
(*)Each voucher is valid for one class. A participant can buy multiple vouchers to attend more classes.
(*) All vouchersare valid for the course organized that month only and cannot be used for later courses (except for when participants inform Jolie Siam in advanced).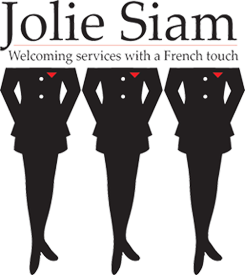 JOLIE SIAM
Founded in 2006, Jolie Siam has rapidly become the foremost company in welcoming services and HR outsourcing in Vietnam. We benefits from more than 20 years' experience, combining Western methodology with a deep understanding of Vietnamese culture. We aim to reduce your overheads by helping you achieve a continuity of service with our staff retention techniques, while giving you flexibility in your workforce. We offer a wide range of HR services, with ensured quality, because of our many years experience in the industry, and bespoke training programs for our staff.